back workout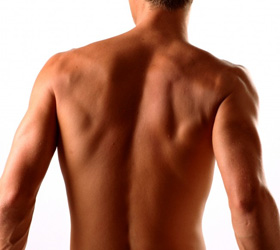 In Germany about one in three people suffers from back pain. Targeted back training helps to prevent this pain and to eliminate spinal problems. It is essential to discuss the nature and cause of the pain before training, because not every training fits every (medical) diagnosis.

If you sit a lot every day, you should definitely do a preventative workout for your back on a regular basis. In the effective PERSONAL TRAINING, the muscles that form the protective and supportive muscle corset are specifically strengthened.

Back and stomach work closely together. Only a well-trained stomach can support the back muscles and vice versa.

If you already have back problems, you should definitely get coached during training in order not only to build up muscles, but also to prevent injuries and irreparable damage.

But also a defined and well trained back with a pronounced and well visible musculature can be the goal of this training. Let Ursula Klein coach you as your PERSONAL TRAINER and enjoy a special back training which helps you to build up attractive muscles in the shortest possible time and to get and stay in good shape!